Know How To Build a Chicken Coop
Protect your chickens from the elements and predators with a DIY chicken coop. Whether you're considering purchasing your first chickens or you've been raising poultry for years, find out how to create your own coop and save money on this DIY project. Create a design, purchase supplies and build a poultry shelter on your property with these steps. Enjoy a healthy, safe flock of chickens with a new coop and other quality supplies.
Design the Coop
You need to build a coop to match your flock size and breed. As a general rule of thumb, most breeds need about 2 square feet of floor space. Some only need a single square foot while others need even more space, so be sure you build a coop large enough for your current or planned flock.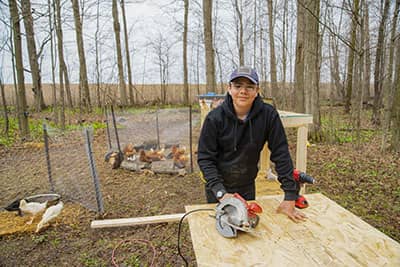 Look for the site of your coop to ensure it fits well and looks good in your yard. Chickens love southern sun exposure, a fenced run and an area that doesn't pool with water and mud. Don't forget to consider the materials you'll use and essential features. Chicken coops need a door to close at night to keep your chickens safe. Compare these flooring options to find the best one to fit your location and budget:


Dirt floor


Wooden floor


Concrete floor


Consider adding an electrical outlet to your coop. Have an electrician install an outlet or a low-watt bulb to keep your winter egg production constant. Ventilation is another key part of a well-built coop. Extreme summer heat and stuffy air isn't ideal for your chickens, so proper ventilation can help them stay comfortable.
Purchase Supplies
Once you've created the ideal plan for your coop, it's time to do some shopping. Visit your local hardware store or Tractor Supply Co. location for the necessary materials. In addition to basic construction material, such as 2x4s, plywood and roofing materials, you also need chicken wire and other materials to keep the coop secure.
Find a Location
Scope out your yard and find the best place to get started with your construction project. Gather your materials, tools and safety equipment to start construction. Check again to ensure your spot is relatively level and not prone to flooding and has ample sunlight and shade for your flock. Depending on your feed and watering situation, consider placing your coop near a water faucet or your food storage area. This can reduce the time and effort of caring for your flock.
Build the Coop
A basic chicken coop is easy and affordable to build. After creating the basic frame, there are a number of design options you can choose to make it more comfortable, safe and convenient. Additional doors can make it easy to gather eggs. Watering supplies and feed troughs reduce the time and energy of caring for your chickens.
Add straw, wood shavings or other materials on the floor and nest boxes for comfortable nesting. This bedding should be changed every month or so to keep your chickens comfortable.
The roof of your coop can either be metal or asphalt shingles. Shingles are more affordable but require more time to install and don't last as long as steel. A metal roof is slightly more of an investment, but you won't have to worry about replacing it for many years.
Get Everything You Need
Now that you know the basics of how to build a chicken coop, it's time to gather your supplies and get started. Create a safe home for your flock to enjoy raising chickens with less hassle and work.